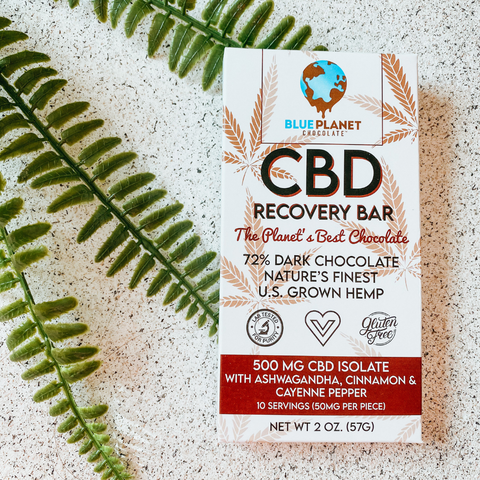 After a good workout, whether in the gym, the yard or a long day at work, your body can be achy from inflamed muscles. The combination of our 72% dark chocolate and CBD, with their antioxidant properties, along with Ashwagandha, Cinnamon, and Cayenne Pepper make for a delicious way to assist in your cool down. Each spicy dark chocolate square contains 50mg of CBD Isolate.

Ashwagandha - A root powder, used for centuries in traditional Indian medicine, is classified as an adaptogen which can help your body manage stress. Studies have also shown that ashwagandha may boost brain function and lower blood sugar and cortisol levels. 

Cinnamon - Packed with probiotics, cinnamon has anti-inflammatory properties and may help to cut the risk of heart disease as well as potentially lower blood sugar levels. 

Cayenne Pepper - May help to relieve pain as well as lower blood pressure. 

The reasons listed above are why we've combined these ingredients to create a bar that's perfect for after any sort of physical activity. The cinnamon and cayenne pepper should provide more immediate effects while the ashwagandha and CBD should take effect about 25-40 minutes later and have longer lasting effects. What other questions do you have about our Recovery Bar or any other bar that we make? Feel free to leave them in the comments.