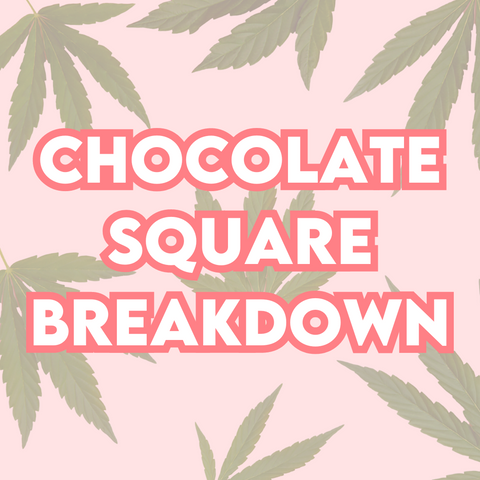 These convenient, bite-sized squares are perfect for so many reasons. They're easily portable and great for on the go. Keep one close by (not in heat), store them in a bedside drawer or even use them as a small gift!
25mg Delta 9 THC Square - The Planet's Best Chocolate infused with Delta 9 THC. Each creamy, milk chocolate square contains 25mg of hemp-derived THC. This high strength square has no cannabis taste at all. Start with ¼ piece and allow 45-90 minutes to take effect. Do not eat more until you find out how this works for you. *This product may be intoxicating.
20mg Delta 9 THC + 40mg Delta 8 THC Square - This piece of creamy, milk chocolate is for the serious edible folks. Packed with 60 mg of total THC, this can either put you on the couch, or be your favorite high strength edible that does it's job, and tastes awesome as always. We urge caution as this chocolate is quite strong. Start with ¼ piece and allow 45-90 minutes to feel the effects. Only eat another piece once you know how your body reacts to this edible. *This product may be intoxicating.
50mg CBD Square - The combination of our 72% smooth dark chocolate and organic CBD is a powerfully delicious way to start or end your day. Relief of aches and pains, difficulty sleeping, anxiety, and an uplifting outlook are something most adults need. High levels of antioxidants in the dark chocolate and 50mg of the highest quality US grown CBD, make this chocolate a delicious choice. Enjoy a whole square. *No intoxication
50mg Delta 8 THC + 20mg CBN - Sleep Square - It's estimated that 50-70 million adults in the US have problems sleeping. At Blue Planet Chocolate, we take this very seriously. This is our most powerful piece that we've designed to help you fall asleep and stay asleep. This edible can be intoxicating. Delta 8 THC is the intoxicating part. CBN is thought to be the best cannabinoid to promote sleep. Start with ¼ of a square and allow 45-90 minutes to take effect. Adjust the amount the next time if needed. *This product may be intoxicating.
Along with all of our squares and bars, it's always smart to start "low and slow". Overconsumption is possible and it is an uncomfortable feeling. If this does happen; find a cozy spot to sit, sip cold water, watch a comforting show/movie, and relax. CBD can also counteract THC to an extent, it's smart to keep a square nearby just in case!