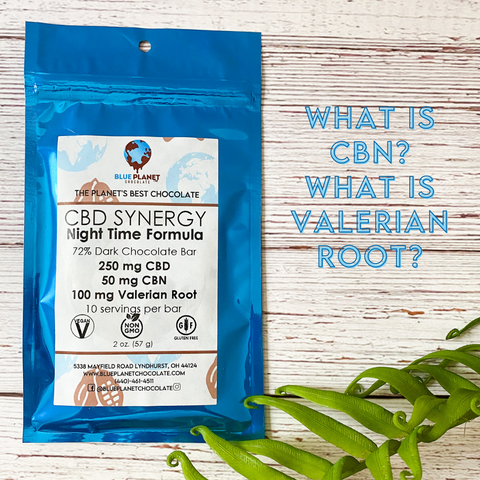 Based on CDC statistics, between 28 and 44% of adults in the United States have sleep disorders (the % changes based on what part of the country you live in).  This means sleeping less than 7 hours per night and waking up throughout the night.
At Blue Planet Chocolate, we manufacture our Nighttime CBD bar with melatonin.  Feedback has been very positive which is exciting.  We also recognize that some feel groggy in the morning from melatonin or find that melatonin just doesn't seem to work.  Therefore, we have our first selection in the Synergy Line.
A chocolate bar made with CBD, CBN, and Valerian root.
The concept behind the Night Time Synergy bar is to provide an effective sleep aid while waking up feeling ready to go. You can check out our blog post about synergy to get a better understanding of what that means.
What is CBN? 
Research shows CBN (Cannabinol) works as an
anti-insomnia
 derivative from the hemp plant, much like CBD.  It is also thought to have
 antibacterial, anti-inflammatory
 and pain
 relief
.  
It can also increase appetite like THC, without the psychotropic effects. Cannabinol also seems to exert healthy synergistic effects with
CBD and other cannabinoids.
Valerian 
is an her
b
 native to
 Europe and parts of Asia als
o grows in North America. 
The root has been used for medicinal purposes for many years.
Valerian
root 
is most commonly used for 
insomnia, a sleep disorder experienced primarily by adults as we age
. Valerian is also used orally for 
anxiety 
and
stress, although additional research is being continued.
Click here to shop our new Night Time Synergy Bars.
If you have any further questions, please feel free to leave them in the comments below!