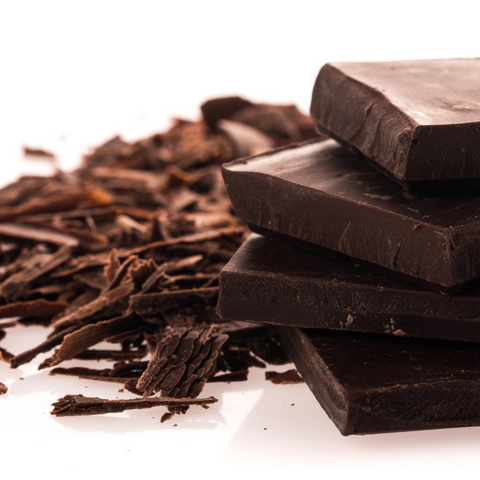 We're often asked questions such as: what does the percentage of chocolate actually mean? and what is CBD? What does it do? Well, we'll be answering these questions and more in our new weekly educational blog. For our first post, we are answering 2 important questions that we get quite often: What does the 72% mean? and Why is chocolate a good delivery system for CBD?
72% is the amount of chocolate that comes from the cocoa bean.  The other 28% comes primarily from sugar and vanilla.  The higher the percentage of cocoa solids (the combination of cocoa butter and cocoa powder), the greater the potential health benefits.  On the other side is milk chocolate which would typically be around 30% cocoa solids, leaving the other 70% with sugar, milk, and vanilla.  The sugar content may be more than twice that of a higher cocoa content chocolate. 
Being that the greatest benefits are derived from the cocoa powder, the higher cocoa content chocolates are the best choice to go with a healthy diet.
What makes dark chocolate a good delivery system for CBD? 
 Chocolate, dark chocolate in particular, is an excellent delivery system for CBD...and it tastes great.  
There are many ways to take CBD.  Gummies, tincture drops, soft gels, vaporizing, and chocolate.  Most edibles are eaten and swallowed, losing a large portion of the CBD effectiveness due to stomach acids as they metabolize.  Chocolate is always best to be enjoyed sublingual.  Allowing the chocolate to melt under your tongue not only tastes delicious, but it is also absorbed into your body more quickly and efficiently.
So, dark chocolate also has a few other tricks up its sleeve to increase the efficacy of CBD.  There are high levels of polyphenols (antioxidants) in high cocoa dark chocolate.  The combination of these helps to relax muscle tissues of arteries and veins, allowing increased blood flow.  While this has a myriad of benefits to the system, it also increases the ability of the CBD to travel the body and reach the CB2 receptors, which is the goal.  Furthermore, chocolate contains two other bioactive ingredients, caffeine and theobromine which also increase effectiveness.
We're excited to start sharing more educational information with you every week but we also want to know what you would like to know! Feel free to leave us a comment letting us know your thoughts or any other questions you would like to see answered. Thanks for reading and we hope you have a sweet day!